Pooky and I are going full steam ahead with all things Christmas! We've been having a lot of fun with all of our advent calendar activities. One such activity was to make a homemade ornament for the Christmas tree. I suggested making an angel using a wine cork; it's a craft I've been wanting to try my hand at for a few years now.
We happen to have a lot of wine corks lying around (shhh, no judgment please), but what we discovered, is that to make a better looking angel, we needed to use a champagne (or sparkling wine) cork instead of a regular wine cork. It provided a better shape for the head of the angel.
This craft is pretty simple and comes together in a matter of minutes, unless you choose to do the optional step of adding decoration to the angel using glitter glue. See the note at the bottom.
Here's what you need for each angel:
coffee filter
champagne/sparkling wine cork
fuzzy stick (in silver, gold, or white)
2 white or silver foil cupcake liners (we used mini ones)
hole punch
jingle bell (optional)
glitter glue (optional)
ornament hook
Steps to follow:
1.Roll one end of the fuzzy stick into a circle with approximately one inch diameter. Twist the end of the fuzzy stick onto itself to secure the circle closed. Bend the circle down so it is at a right angle to the rest of the fuzzy stick. (This is the angel's halo.)
2. Drape the coffee filter over the cork, making sure the cork is in the center of the filter.
3. Gather the filter together just under the large part of the cork (the angel's neck) and wind the fuzzy stick one time around.                      (If you are using the jingle bell, thread it onto the fuzzy stick before this step.)
4. Fold each of the two cupcake liners in fourths. Hole punch the corner of each one. (These will be the wings.)
5. Thread the "wings" onto the fuzzy stick and adjust as needed. Then twist any remaining length of fuzzy stick around itself.
6. Attach an ornament hook just under the halo.
And that's it! (Feel free to draw a face on the angel with permanent marker.  I just thought they looked better without one.)
Younger kids will need help with parts of this craft, but older kids should be able to do most of it by themselves.
Note: if you want to use the glitter glue to add extra decoration to the angel, do this first.  Decorate the coffee filter however you like. We used paintbrushes to smear glitter glue all over some of the coffee filters.  On others we just made designs with the glitter glue. Be sure to allow ample time for drying before following the steps above to assemble the angel ornament.
But wait! That's not all!
This Angel Ornament Christmas Craft is part of the 10 Days of Christ-Centered Christmas. Over 15 bloggers have come together to share their Christ-centered Christmas kids books, crafts, activities and more. Check out the links below and please share.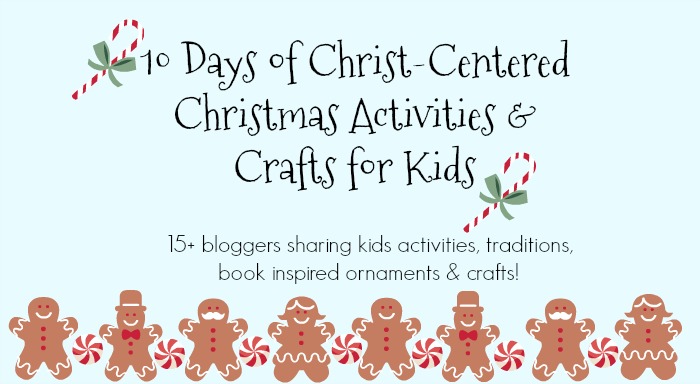 Our 10 Days of Christ-Centered Christmas Activities & Crafts blog hop is filled with lots of fun activities for the family. Our Fabulous bloggers are Inspired by Family, Chaos & Clutter , Paradise Praises, Encouraging Moms at Home, Crafty Moms Share, Thinking Kids Blog, Teach Me Mommy, Proverbial Homemaker, Suburban Soiree, The Awe Filled Homemaker, Future Flying Saucers, Adventures in Mommydom, Spark and Pook, Talking Mom 2 Mom, Clarissa R. West, Pichea Place & Homeschool preschool. You can visit Here for the full schedule of activities.